Example of the Products We Provide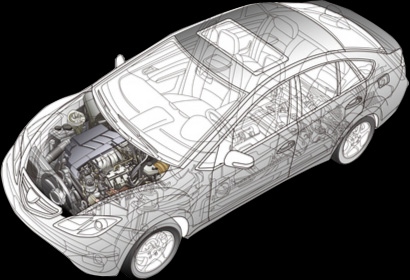 Our Role in the Die/Mold & Sheet-metal Industries
Recent years have seen an increase in the number of companies rationalizing and automating their facilities in pursuit of higher precision and higher productivity.
To such customers, we propose not only new stand-alone facilities, but also solutions that are one step ahead of the times by building and introducing automated systems that effectively integrate individual facilities. Furthermore, in addition to proposing new machinery, we comprehensively support our customers such as from the perspectives of meeting budgetary requests and providing post-delivery customer services, as a one-stop company.
[Main department in charge : Industrial Mechatronics Division]
Engine components are welded using Electron beam welding machines.
Engines

Electron beam welding machines
Molds for automotive motor cores, transmission parts,seat components
and precision parts are machined using Electron beam welding machines.
Press molds

Hybrid motor cores

Wire-Cut EDM machines

Machining centers for ultra-precision machining
Sheet metals used tomanufacture cars and trains are cut using Laser cutting machines.
Sheet metal covers

Laser cutting machines
Main Products
Wire-cut EDM Machines
In wire-cut electrical discharge machining (EDM), electricity is passed through a brass wire that is fed through a workpiece submerged in water or oil to dissolve and cut the workpiece. Wire-cut EDM machines can cut a variety of materials, including iron, stainless steel and aluminum, with an ultra-high precision of 1/1000 mm. They can also cut plates of all thicknesses.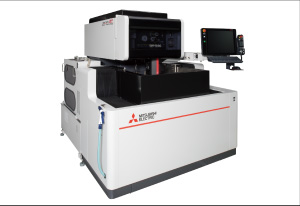 Laser Cutting Machines
Laser cutting machines cut workpieces at high speeds and with high precision by emitting a laser beam on the workpiece. They can cut a variety of materials, including iron, stainless steel and aluminum, and materials of various thicknesses, from ultra-thin plates that are less than 1mm thick, to 25mm-thick plates. In addition to flat plates, some laser cutting machines can also cut three-dimensional shapes.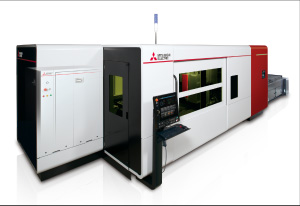 Laser Cutting Machine Automation Systems
I Various layouts can be configured by freely combining loaders, unloaders, pallet changers, stockers and other components. With these systems customers can achieve continuous operation of laser cutting, thereby contributing greatly to personnel reduction and labor saving. We can propose automation systems tailored to customer needs, even in Japanese factories where space is limited.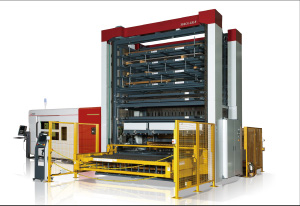 Electron-beam Welding Machines
In electron-beam welding, electrons discharged in a vacuum are accelerated by high voltage and are applied to the base material to meld two materials together. Electron-beam welding machines are generally used in welding car turbochargers. In addition to electron-beam welding machines, Mitsubishi Corporation Technos also provides other types of beam welding machines, such as CO2 and fiber laser welding machines.